THIS OFFER IS NO LONGER AVAILABLE
Thousands of people across the nation choose PrintKEG each year. As a small-time printer in little ole' Beaufort, South Carolina, we're super proud to have so many supporters. As part of our mission to give away a bunch of custom shirts through 2014, we've built up a stock of PrintKEG t-shirts just for our fans. This offer will only last until the end of May and supplies are limited.
If you'd like a PrintKEG shirt (we'd certainly love for you to wear it around town), please fill out this sample request form. It might take a couple days or a few weeks for the shirt to arrive so please be patient with us – offering free products can be daunting. If you do not receive your shirt, please contact us at contact@printkeg.com. Your t-shirt may not match this picture because we like to mix it up some!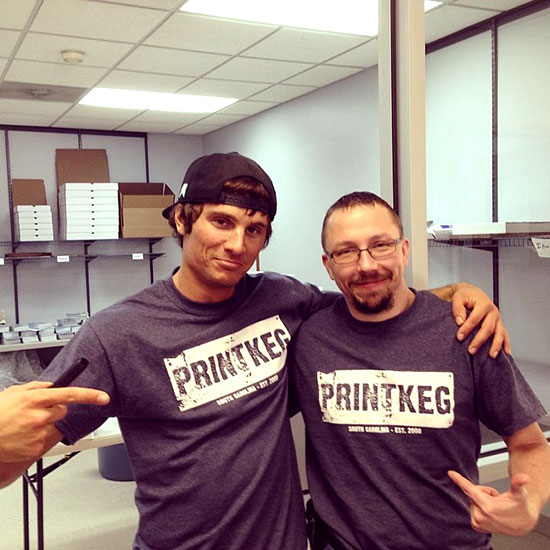 PrintKEG offers custom shirt printing services through our website, PrintkegShirts.com, which hosts many t-shirt styles and an online designer. Most of our custom t-shirt printing is provided by a Direct-To-Garment printer, a perfect solution for projects of 25 shirts and less or for graphics requiring full color. For larger orders, screen printing is typically a more cost efficient solution so we've partnered with a local screen printer located in Beaufort to formulate some very cheap choices for printing large runs of shirts. There are some trade offs of course (color limitations), but our main goal was to become a well-rounded solution for anyone requiring only one shirt or organizations needing thousands.
We welcome local customers to visit our office located at 122 Stanley Road, Suite C, in Beaufort, South Carolina. We have many shirt styles and equipment onsite for viewing and would love to help you determine the most affordable and efficient method of printing your custom t-shirt project. Feel free to call 843-379-1198 to set up an appointment with Chris.
Feel free to call us if you are not located in Beaufort. We'd love to discuss your t-shirt project in more detail. Just ask for Chris or Jessica.