The Real Scoop on Shopify POS [Review]
There are many reviews out there that compare Shopify's POS to other systems like Square. I personally own and operate two Shopify stores. One of them, Flashback Gear, relies on Shopify's complete POS system since it is a traditional brick and mortar store and an online company.
Why did we pick Shopify POS?
Since we already had an online store in place, it made sense to take advantage of the POS add-on. Sharing inventory for online and offline sales was a major decision factor. Plus, we are very familiar with the Shopify platform since we have used it for years with another business – Printkeg. We thought these advantages were enough to select Shopify as our primary brick and mortar POS system.
However, after using Shopify POS for a few months for walk-in sales, there are some drawbacks to the system. This doesn't necessarily mean we intend on switching systems soon, but we're thinking about it. Let's go over why we are using Shopify in the first place.
1. We are familiar with Shopify since we have used the platform for quite a long time.
2. Managing inventory for online and offline sales using one database was an attractive benefit.
3. In my opinion, the Shopify e-commerce solution is one of the best out there (not that it doesn't have flaws), and we wanted to keep that system intact.
The Store Register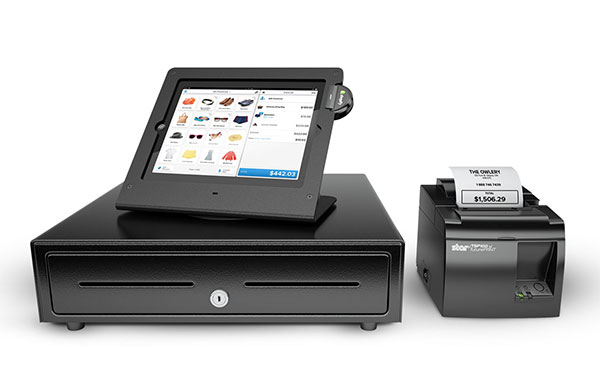 The Shopify POS system utilizes a cash drawer, wireless card reader and wireless receipt machine combined with an iPad Air. The platform is fairly simple to set up and will require little time to get started taking orders. Simplicity is always good in my book and allows business owners to avoid technician set-up fees that might be required for systems like Clover.
The price point of buying a new register is on par with Square and less expensive than Clover.
The physicality of the register is not nearly as "pretty" as other POS systems I have seen like Square and Clover. We have also noticed that the software is sometimes a little clunky or "laggy" when running on iOS. This is true on an iPhone, iPod or iPad. Android is supported, but we have no experience using Shopify POS on it.
There's no question the software is easy to use. Setting up products is a breeze especially if you are familiar with using Shopify. We will get to software features later.
1. Not a great looking system.
2. Price point of getting started is the same of better than comparable systems.
3. Software is easy to use.
Card Readers
Shopify offers two card readers. The larger pin-pad reader is part of the the register system. A smaller reader is available for free (a one time offer) and plugs into an headphone jack. Sorry iPhone 7 users.
The pin-pad wireless card reader is intended for in-store sales. The little bluetooth gadget loses connection every so often, but usually takes little effort (if any) to reconnect. We actually keep the device plugged in and charging since it goes into sleep mode way too quickly by default. I have not researched whether this can be adjusted. The chip reader definitely seems to be slower than what we've experienced at other stores, but that statement may by untrue since we have not performed measured tests.
The smaller card reader that plugs into the head phone jack works well and is comparable to devices provided by Paypal or Square. We use the free smaller card reader for off-site sales while at expos and festivals. There is currently not a card reader that connects via lightning port which is a bummer for updated iPhone users.
Software
The real power behind the POS is Shopify's many solutions to run an effective online store. Those advantages end when it comes to selling to real physical human beings. The software lacks features other physical store POS systems consider mandatory.
For instance, the POS system does not offer the customer a way to receive a receipt via email or text message. Every other POS system I have encountered offers this, and it seems pretty ridiculous Shopify has not implemented this yet. Yes, you can email and print receipts, but the customer cannot choose these options while paying. That is a huge drawback that should be rectified by Shopify.
The software lags sometimes. Typing can be infuriating at times. Even logging in can become a chore. I thought this was a problem related to the iPad's casing, but it seems to happen on mobile devices too. It isn't a deal breaker, but nevertheless annoying. It doesn't occur all the time, but the glitch is real.
We must include the advantage of managing products and inventory. With Shopify, you can choose whether a product is offered online and/or in-store. Plus the system tracks inventory products that sell online or in-store which is nice. Square does not offer a comparable online store solution. Clover offers a storefront solution, but I have not yet properly researched that product and compared it to Shopify yet. When I do, I'll report back.
Again, the online software is where Shopify shines. If you add descriptions and images, your website will flourish (marketing and gaining online sales is a bit more complicated). Also, your products can take advantages of numerous marketplaces like Amazon. There are tons of third party apps at your fingertips, but most of these are only useful with the online store side. However, I imagine that most storeowners will not consider Shopify if online sales are not an essential aspect of the business plan.
1. Powerful if online sales will be important
2. Lacks features brick and mortar stores enjoy with other systems
3. Excellent third part apps are available to increase online sales
Support
So far, support is on point. Shopify customer service is supporting storeowners very seriously and quickly. In the past three months, our ability to accept credit cards was down for thirty minutes one time, but their support was extremely responsive which was nice. Also, they answer the phones. I do not have to jump through hoops to talk to someone like I have in the past with Square. The POS system itself includes an option to contact a dedicated support team member. It is also important, and fair, to add that I have had very little reason to call support despite some of the system's rough edges.
1. Support is strong and responsive. Thankfully, we have not needed them but once during a three month period.
Credit Card Fees
From what I have researched, Shopify is a little high on fees. They charge 2.4 to 2.7% transaction fee of ALL in-store sales. Online sales are a little higher. Read through the plans yourself. If your business is cash heavy, this payment structure is a major drawback. As mentioned before, your business should be taking online sales seriously if you intend to take advantage of Shopify. Square credit card fees are a little high as well (higher in many instances), and Clover will shine when it comes to swiping physical cards all day long.
1. Credit card fees are 2 to 2.5% of all transactions: Credit or cash.
2. You should research the different services to see how fees will impact your bottom line. Every business is different.
Conclusion
The Shopify POS system is lacking in a world that includes choices like Square and Clover. This makes sense since the company originated as an e-commerce service company and is relatively new to serving brick and mortar stores. However, if your business intends to also sell products online, the Shopify ecosystem might be the answer. Our company will likely maintain our Shopify website, but we do intend to explore other register systems. The grass isn't always greener on the other side of the fence.