Flyer Designs For That Super Bowl Party (Templates)
Designers and common-folk sometimes must resort to using templates. Templates save us time, money and energy and can be pivotal in helping us stay within budget. I'm a huge fan of Envato Marketplaces, a hub of different template sites, and have used ThemeForest for a number of projects (in my web development days) but there is also a spot for print templates called GraphicRiver (I love their naming scheme). GraphicRiver hosts thousands of flyer templates that look amazing especially for clubs and events. But we thought, we'd take this a step further and showcase some football related flyer templates for clubs and events hosting Superbowl parties soon.
8.5×11 Football Flyer Template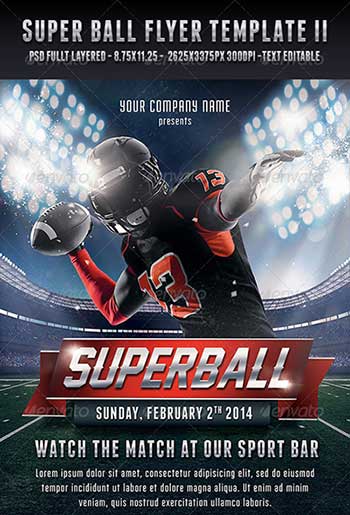 This template will surely captivate peoples' attention and looks very easy to change the text. It's dark representing the night club scene and there's enough room for information about the Super Bowl party.  This template includes a fully layered PSD file and the creator boasts how easy colors, text and size can be modified. More importantly, this 8.5×11 flyer template is printready being 300 DPI with ample bleed area for any print company to work with. Price $6.
Football 4×6 Flyer Template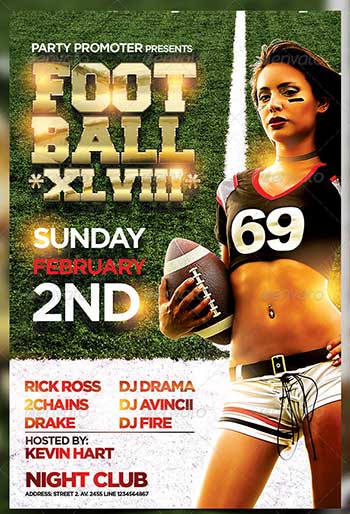 Since this football flyer is 4×6, it will probably be cheaper and faster to hand out. Intended for clubs and restaurants, it could also be fun to hand these out to pals you've invited over on Super Bowl Sunday. This card is cleanly designed and is perfect for situations where there isn't much information needed. At 300 DPI, a 25″ bleed area and CMYK color mode, the art file is print ready and should be easily edited. Price $6.
Football 5×7 Flyer/Postcard Template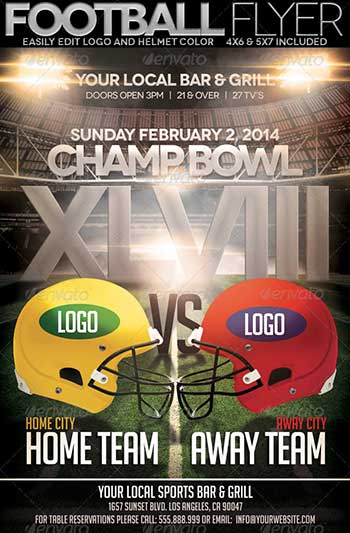 This template specifically created for bar & grills, sports bars and restaurants is versatile since it is available in sizes 4×6 and 5×7 (template has 2 different PSD files). I specifically thought 5×7 could be beneficial since many printers (including us) offer this envelope size making these flyers easy to mail as invitations to friends and family for home parties…and let's admit that the better parties are normally at the residence. This template's creator shows that switching helmet colors and logos is quite easy for any graphic designer with Photoshop. Price: $6.
International Football Template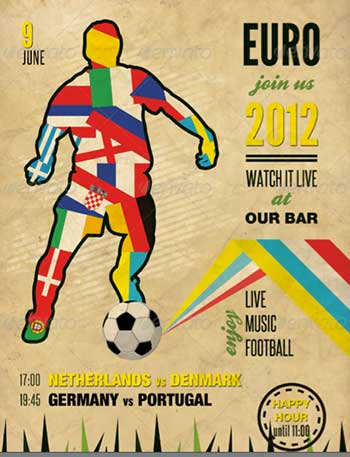 Yes, this article has been focused more on American Football templates in spirit of the upcoming Super Bowl, but this vintage football template captured my eye. I just loved the flags, the silhouette and arrangement of this flyer design. The 8.5×11 highly customizable template is easy to edit and change for any purpose (social event or private party). CMYK color mode, 300 DPI and bleeds of 0.25" are accommodating for print companies. Price $6.
Clean Football Template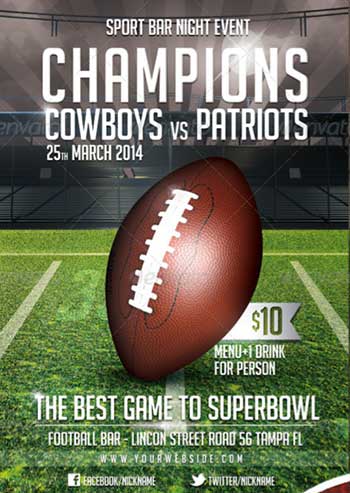 A couple things stand out to me about this football flyer template. First, it's simple, professional and straight to the point. Second, the art is designed 8.27×11.69 and is likely compatible as the standard 8.5×11 flyer or as a frame friendly 8×10 flyer. With social networking icons and all images layered out, this PSD file will help you whip up a new Super Bowl party flyer in just minutes. Price $6.
Have fun!
GraphicRiver literally offers thousands of flyer templates for clubs and events – a few dozen related to football. We hope you enjoy this year's Super Bowl and hope everyone remains safe during the festivities.